Introducing New Model 5435 Mobile IceSight to Line of RWIS Surface Sensors
Extensive testing of the Model 5435 Mobile IceSight has been conducted across the country for the past two winters with excellent results. From minus 25 degree Fahrenheit temperatures in northern Minnesota to the wet and snowy conditions of the northern California Sierra Mountains, the Mobile IceSight has exceeded expectations.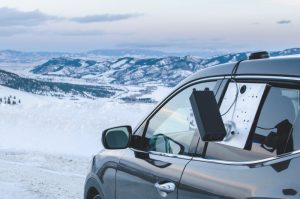 Detailed Sensor Information:
The Model 5435 Mobile IceSight is a remote mobile surface condition sensor that provides real-time surface condition and atmospheric information from a moving vehicle. The sensor's standard, open-architecture data output includes six distinct surface indications, surface friction coefficient, surface temperature, air temperature and relative humidity.
The mobile IceSight was developed for winter maintenance professionals who demand up to the second information about their roads and environment. The compact and rugged design can withstand the harsh environments of winter maintenance vehicles that make it ideal for fleet management.
Some use cases include:
Real-time surface and atmospheric data when and where you need it
Integrate into existing RWIS network to fill in gaps between fixed stations
Integrate into existing AVL and MDSS systems with the sensors open-architecture data output
Flexible mounting solutions with small form factor and 3 to 15 ft. measurement range
Thermal mapping capabilities with the 5437 MPU and Glance subscription
Tool for vehicle fleet route optimization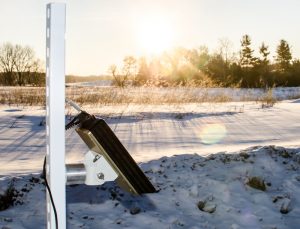 The sensor uses laser and infrared electro-optical technology to detect hazardous ice, snow and wet conditions and surface grip without embedding any sensors in the pavement. Surface states reported include dry, damp, wet, slush, snow and ice indications. Surface grip is reported as a friction coefficient on a scale of 0 (worst) to 1 (best) and in simple terms to the motorist as good, fair and poor. Road temperature is measured by a highly accurate non-contact infrared temperature sensor. Air temperature and relative humidity are measured separate from the main sensor housing to allow for accurate readings with quick response time to changing atmospheric conditions.
Integrated Wi-Fi, as a standard, is used to provide the user a web based data dash display compatible with any standard web browser on a computer or smart device. The dash display background colors change based on surface condition, giving the user instant feedback without needing to look directly at the display. In addition to the data display, a java applet is provided for sensor auto calibration and data logging from a java enabled computer.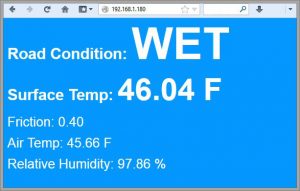 Glance data display of Mobile IceSight sensor testing in Helena, MT.  With the 5437 Mobile Processing Unit (MPU) and Glance data portal, the Mobile IceSight turns into an AVL solution.