** NOT CURRENTLY AVAILABLE **
The Model 5435 Mobile IceSight™ provides real-time, location specific road weather data from a vehicle. The sensor's standard, open-architecture data output includes surface condition, surface temperature, surface friction coefficient, air temperature and relative humidity. The mobile IceSight was developed for winter maintenance professionals who demand up-to-the-second information about their roads and environment. The compact and rugged design can withstand the harsh environments of winter maintenance vehicles that make it ideal for fleet management.
Benefits
Fill in gaps between existing Road Weather Information System (RWIS) stations
In-cab display via Wi-Fi from sensor
Small footprint and large measurement range allow for flexible installation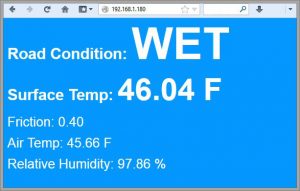 Highlights
The sensor uses laser and infrared electro-optical technology to detect hazardous ice, snow and wet conditions with a surface grip value without embedding any sensors in the pavement.
Surface states reported include dry, damp, wet, slush, snow and ice. Surface grip is reported as a friction coefficient on a scale of 0 (worst) to 1 (best) and in simple terms to the motorist as good, fair and poor.
Road temperature is measured by an accurate non-contact infrared temperature sensor.
Air temperature and relative humidity are measured separate from the main sensor housing to allow for accurate readings with quick response time to changing atmospheric conditions.
Integrated Wi-Fi, as a standard, is used to provide the user a web-based data dash display compatible with any standard web browser on a computer or smart device. The dash display background colors change based on surface condition, giving the user instant feedback without needing to look directly at the display. In addition to the data display, a calibration applet is provided for sensor auto calibration and data logging from a Java enabled computer.