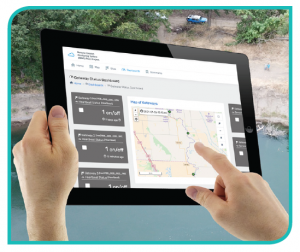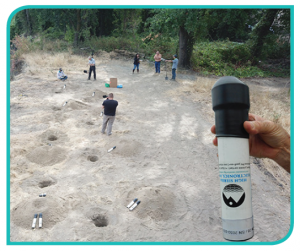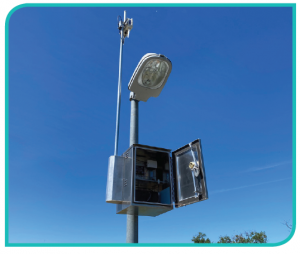 Remote Erosion Monitoring System (REMS) comprises
Model 3108-00 REMS Beacons
Model 3108-01 REMS Cellular Gateway Receivers
REMS 24×7 Remote Monitoring via Contrail® cloud-based software
Model 3108-00 REMS Beacon
The Model 3108-00 Erosion Beacon is buried in a riverbank, or levee, in areas that are of concern for potential erosion that could negatively affect the structural integrity of the levee.
The Beacon is in sleep mode while buried and if erosion does release the beacon into the flow of the river, it immediately begins transmitting an identification signal every 15 seconds. The signal is picked up by a 3108-01 Cellular Gateway and the signal is passed on to Contrail® cloud-hosted software. All Beacon IDs are entered in the Contrail® REMS database with their precise location and depth. When a signal is received from a transmitting Beacon, text and/or e-mail alarms are sent to agency personnel informing them of the erosion event location.
The Model 3108-00H Heartbeat Beacon is located at a Gateway site. It continuously transmits every 15 minutes. These messages are logged in Contrail and provide verification that the Gateway and communication path are operational. Missing heartbeat reports are an indication that there is a problem that needs investigation.
Model 3108-01 REMS Cellular Gateway
The Model 3108-01 is a complete packaged Cellular Gateway Station for REMS (Remote Erosion Monitoring System) for levees. The Gateway Station is designed to be mounted on a pole and is solar-powered so that it can be mounted wherever it is needed without the need to run power to it.
The Gateway itself is certified IP67 and can resist the harshest environmental factors including moisture, dust, wind, rain, snow, and extreme heat in virtually any environment. The enhanced IP67 solution can support thousands of REMS Beacons featuring two-way encrypted communications with the Beacons. The Gateway passes all beacon data on to Contrail® cloud-hosted monitoring software.
The number of REMS Gateways required for a system is dependent upon the dispersion of REMS Beacons installed. Once erosion releases the Beacons into the river, the transmitted signals from the Beacons are dependent on LOS (line-of-sight) radio paths, so placement of Gateways should ensure signals are received shortly after the Beacons start transmitting.
Contrail® – REMS Data Center 24×7 Monitoring
Contrail cloud-based software is entirely web-accessible and enables unlimited users and administrators to access REMS securely from any device—desktop, smart phone, or tablet. Users can track erosion by viewing each REMS Beacon site status on high-resolution maps and can drill-down to investigate further, including: Gateway status, site details, images, and more.
Advanced alarm management enables highly customizable user-defined alarm rules and messaging features that can support EAPs (emergency action plans). Automated notifications via e-mail and SMS, or text, can be tailored specifically to varying user-group needs, e.g., different messages can be sent to different personnel depending upon their role (maintenance vs. emergency response)..