The Standpipe Model 7000-13 can easily be installed by one person in 3 to 4 hours (depending on soil conditions). Typical Standpipe installations call for a round hole 2 ft (0.6 m) deep with a 2 ft (0.6 m) diameter. The standpipe is placed in the hole and secured in place with concrete.
The Standpipe is a good example of our goal to design equipment that provides long-lasting and reliable function while keeping installation, operation, and maintenance as quick and easy as possible. The current weatherproof Standpipe design is based on years of field experience of our engineers and technicians, and feedback from dozens of our client's field technicians and system operators.
The standpipe includes a locking, quick disconnect top that can be attached or removed in seconds for easy top section connection. Three studs at the base of the top section drop into L shaped slots at the top of the standpipe and when the top section is rotated, it is secured into place. Then with the turn and removal of your key, your top section is secured from others removing it. Don't worry about dropping a screw or wrench, a missing nut, or cross threading.
The 10 ft (3 m) steel mast provides much greater strength than an aluminum mast. This is particularly significant when a directional antenna is used in areas that experience high winds. The mast is attached by U-bolts to two brackets welded to the side of the standpipe, and the connection and cable entry are protected by a mast base cover. With the mast resting on the ground, the U-bolts can be put in place and tightened most of the way before being raised into position and tightened. This also allows readjustment of a directional antenna without the need to lower the mast. Installation and maintenance are easily accomplished by one person.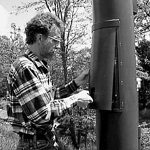 An optional access door with key lock can be purchased with or added to an existing standpipe to decrease maintenance time. The standard door is positioned 3.25 ft (0.99 m) below the top of the standpipe. The standpipe door opening is 22 inches (55.9 cm) high and 10 inches (25.4 cm) wide. This places the bottom of the door approximately 2.75 ft (0.84 m) above the ground after a typical installation of a standard 10 ft (3 m) standpipe. You can request that the standpipe door's location be moved if needed for your application.