The City of McKinney, Texas, will install an automated High Water Detection System (HWDS) in areas close to Wilson Creek that have a history of flash flooding. During heavy or sustained rainfall events, water in the Wilson Creek rises rapidly causing several roadways in the City to flood with little or no warning. The new HWDS system, designed by High Sierra Electronics (hsierra.com), collects data in real time from several water level sensors and then triggers flashing lights to signal to motorists that it's dangerous to cross the road. The move by the City is to help improve public safety by providing advance warnings to motorists and pedestrians that flooding is imminent or occurring. The project is in cooperation with the North Central Texas Council of Governments (NCTCOG) and the Texas Water Development Board (TWDB).
Driver safety during roadway flooding is of great importance. Since 2015, the City's emergency management team has made five rescues where vehicles on these roads have been swept away in the water caused by road flooding.
The High Water Detection System (HWDS) solution, comprising water level sensors, flashing lights and signage, will be installed at five points along two roads near the Wilson Creek. The system is fully integrated for 2-way communication with Contrail software by OneRain, to track the rising waters and help emergency responders and City public works staff to make better decisions about potential flood risks. As the water rises to pre-determined levels, the signs and flashers will activate to warn drivers and pedestrians about the potential of flooding or that it is happening.
Data from the HWDS, along with other regional data, will be accessible to the public via Contrail online portal where users will be able to check the status of the roadways prior to traveling.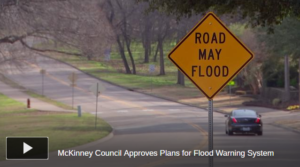 See more on this news with a report by Ben Russell, NBC5 News, Dallas-Fort Worth
About High Sierra Electronics
High Sierra Electronics was founded in 1992 and is headquartered in Grass Valley, California, with additional offices in San Antonio and Fort Worth, TX, and Louisville, KY. High Sierra specializes in flood warning sensors, equipment, and transmitters for public and improved traffic safety. For more information visit www.hsierra.com.
#floodwarning #hwds #roadweather #lowwatercrossing #roadflooding #texasflooding