Fog is a Common Phenomenon at Illinois Power Plant
High Sierra Electronics completed the installation of  a visibility warning system at a power plant in southwest Illinois.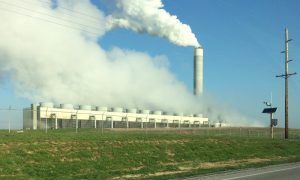 High Sierra Electronics and Traffic Control Corporation partnered together to solve an interesting problem at the Prairie State Energy Campus near Marissa, Illinois. When the conditions are right, localized dense fog forms along County Road 12 adjacent to the power plant. In many cases, the fog formation results because of added water vapor from the power plants steam vents. This causes low visibility and dangerous driving conditions for the public. It was decided that a warning system needed to be put in place to warn the traveling public to fog along the roadway.
The system designed uses a minimalist approach utilizing highly accurate and dependable equipment to provide a low cost system that will work for years to come. The warning system consists of six evenly spaced visibility sensor stations and two sign stations located on either end of the problem area along County Road 12.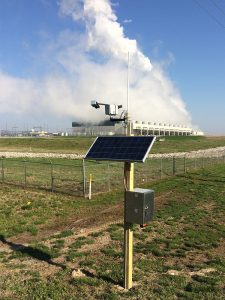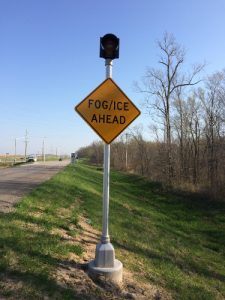 The visibility sensor stations utilize the HSE Model 5434 visibility sensor to send a signal to the TCC provided radio when a low visibility threshold is met. An LED mounted to the bottom of each visibility sensor station cabinet alerts the system administrators which station triggered the alert. The solar system and flashing LED is controlled by HSE Model 5315-01 MPPT Solar Charger and Load Control.
The sign stations consist of a flashing beacon sign and a LED sign to warn motorists of fog conditions ahead.  A signal is sent to activate the sign stations when fog is present at any of the visibility sensor stations.
To learn more about the system described or if you have a similar application please contact High Sierra Electronics at 800-275-2080.
#fogwarningsystem #roadsafety #roadweather