Key Features
Wireless Communications between the control and warning station allow for simple installation.
Parameters: Measures and reports water level.
Low power: All system components are solar powered making it simple to install on new and existing infrastructure.
Central Software monitors system status and issues text and email alarms to key personnel when the system is activated or de-activated.
Utilize existing signs: Convert your static signs to a dynamic warning to alert oncoming motorists.
Description
The Model 5408-90 StormLink RWIS Lite High Water Detection System (HWDS) provides a real-time visual warning to drivers that there is flooding on the road ahead. The warning system reduces accidents on road segments that are prone to flooding.
The StormLink RWIS Lite HWDS is designed for transportation professionals that are looking for a high value, robust warning system that is simple to install and maintain. The packaged system includes a Control Station that measures the flood hazard, and two Warning Stations on each side of the hazard to warn the traveling public.
The Control Station measures the water level at the low point of the road and provides intelligent alarming when roadway flooding is occurring. Highly visible flashing LED lights at the Warning Station alert drivers to slow down, or turn around, before approaching the hazard.
A cellular gateway sends data from the warning system to the Contrail® software platform which provides data visualization, system configuration and customized alarming to agency personnel. Contrail retains a historic record of all system data and can provide the hydrograph of storm events and a record of system activation.
Communication between the Control and Warning Stations is wireless and autonomous allowing the system to work with no outside communications. The warning system utilizes low power components that enables a solar powered solution.
Packaged Solution
Control Station: Pressure transducer with sensor node, and cellular gateway.
Warning Station (x2): 36-inch warning road sign, 12-inch beacon, output node, battery enclosure, and solar panel.
Data Services: Package includes first year cellular data and Contrail Connect software service.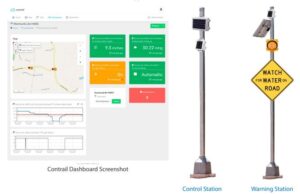 *Mounting structure not provided in standard package